Gahh…
I'm truly upset at myself for letting two months go by without an update.  It's not like I haven't been drawing.
Um, here's a WIP for now (And boy, I've sure got a crapload of 'em.):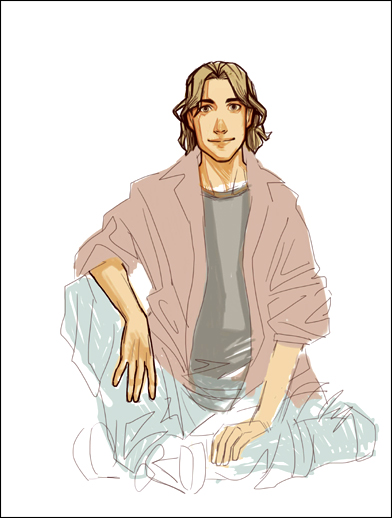 If it looks "tracey" it's because I drew and re-drew that sketch over a billion times.  It's a look I like, as long as it's honestly done.  Like, if this were a traced photo or something…nuh-uh.  Cheeeeating.  But I'll trace over and re-draw my own works 'til the cows come home.
But I digress.
A webcomic I'd been following for, like, four years just ended its run recently.  It's not like I was a huge fan of it – the comic had its share of problems – but I respected the artistry and work ethic behind it.
The fact that they just ENDED it (prematurely, mid storyline!) – I dunno, it's kind of given me the much-needed-kick-in-the-butt to get going on my own work.  It's like, what am I waiting for?  My comic will never be perfect in the beginning, and if I keep putting it off it'll never, ever happen.
It's a good way to start off the year I guess.  Hopeful.  Motivated.  Hopefully, I'll keep this motivation going full-steam.